Salade de tomates et herbes au chèvre
Tomato and Herb Salad with Goat Cheese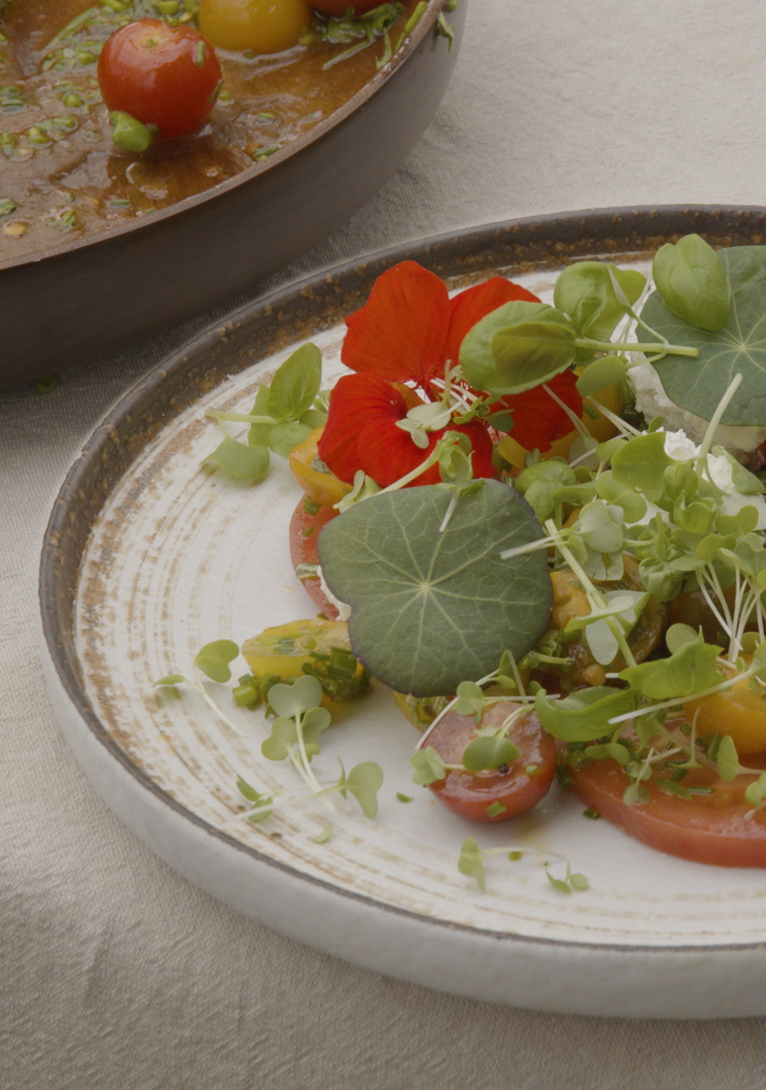 2 portions / 15 minutes
Preparation time:
15 minutes
2 servings
Ingrédients
Ingredients
2 grosses tomates et 15 petites tomates (différentes variétés)
25 ml (⅛ tasse) de vinaigre de cidre
60 ml (¼ tasse) d'huile vierge
Herbes fraîches (basilic, ciboulette, persil, origan, etc.)
Sel et piment gorria, au goût
Fromage de chèvre frais, émietté
1 oignon vert, émincé
5 ml (1 c. à thé) de fleur d'ail, hachée
Fleurs de capucine2 large tomatoes and 15 small tomatoes (various varieties)
25 ml (⅛ cup) cider vinegar
60 ml (¼ cup) virgin oil
Fresh herbs (basil, chives, parsley, oregano, etc.)
Salt and Gorria pepper, to taste
Fresh goat cheese, crumbled
1 green onion, minced
5 ml (1 tsp) garlic scapes, chopped
Nasturtium flowers
Préparation
Preparation
Couper les grosses tomates en tranches épaisses ou en quartiers.
Couper les petites tomates en quartiers.
Arroser les tomates d'huile et de vinaigre de cidre. Ajouter les herbes fraîches hachées. Ajouter un peu de sel et de piment gorria. Servir sur une grande assiette avec le fromage de chèvre, l'oignon vert, la fleur d'ail et des fleurs de capucine.Cut the large tomatoes into thick slices or quarters.
Cut the small tomatoes into quarters.
Drizzle the oil and cider vinegar onto the tomatoes. Add chopped fresh herbs. Add a little salt and Gorria pepper. Serve on a large plate with the goat cheese, green onion, garlic scapes and nasturtium flowers.